Leader Discussions Live:
Boundaries, LCAP and Safety with Dr. Steve Kennedy
Exchange Results Dec 4, 2018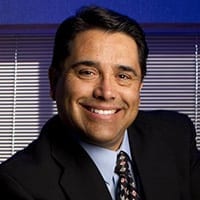 Dr. Steve Kennedy
SUPERINTENDENT

Q: What are your thoughts and questions about this discussion/presentation so far?
What is the most difficult aspect of being so vulnerable? And letting the community speak honestly.
Transparency in today's educational reality is truly a given. Our task as leaders is to hear the various voices and through the exchange process allow for multiple perspectives to help guide decisions that become "actionable" through the exchange, all the while ensuring that decisions remain those that are in the best interest of our students. - Dr. Steve Kennedy
Do you find that you have been able to increase the productivity of team or committee meetings by using Thoughtexchange?
Our productivity as a management team has increased many fold as the Thoughtexchange process serves to, in a sense, filter multiple ideas into a few centralized thoughts on any topic. This makes our meetings more meaningful and maximizes our tiem together as a team. - Dr. Steve Kennedy
What is the ONE thing to boost engagement in the Community to participate in a Thoughtexchange? To really have people sharing and rating other thoughts.
The primary message is that everyone has an important voice and that providing convenient opportunites for individual stakeholders to be a part of the process is absolutely critical to the ultimate success of the initiative or idea. - Dr. Steve Kennedy
How can you help steer your leaders towards getting comfortable with feeling uncomfortable? The hardest part can be listening to all the negative talk or things that aren't working.
In truth, the devil is in the details and a leader knowing the various parameters of an issue, both negative and positive, helps to develop actions that people can live with. - Dr. Steve Kennedy
What advice do you have to superintendents/leaders considering Thoughtexchang as a solution in their districts? Amazing tool but these decisions need buy in.
T.E. is a career-saver, as through Thoughtexchange's advanced analytics outcomes are exponentially better supported in a multitude of settings. The process creates greater efficacy in our actions as the positive outcomes that are realized, truly align with the direction desired. - Dr. Steve Kennedy
Do you have best practices for "closing the loop" how do you report back what actions have been taken to address comments and feedback gathered?
Website updates, newsletters, board presentations, parent meetings, staff meetings, Coffee's with the Supt, etc. are just a few methods of reporting back to the community. - Dr. Steve Kennedy
How do you reach those that do not have computers or cell phones?
We provide computers at every site in the front office with trained personnel to help new users to access the various exchanges. - Dr. Steve Kennedy
How many internal staffing resources does it "cost you"on average to facilitate these district engagements? (Time x people, etc)
Our leaders are quickly and easily trained in the TE method because it is truly a user friendly.product and the results save both time and money in terms of hours spent on a given issue. - Dr. Steve Kennedy
What a great leader/story thank you for sharing! Curious if you can share bit more on the impact (financially Thoughtexchange has had on your district).
The financial impact is simply that through the TE process we have maximized efficiencies that in the end positively impact man hours for many of our departments. - Dr. Steve Kennedy
How do you call Leaders to change from Close+I know to Open+Learning? That's the leap of faith many leaders need all around the world.
We as effective leaders can't be afraid of the truth or it will undoubtedly have a severe effect on our outcomes. It can be unnerving to take an open stance on certain issues, however, knowing exactly what er are up against helps us to better determine next steps that will be more accepted because those few loud voices, or sometimes even our own voice was not the only voice that was heard. - Dr. Steve Kennedy
How long do you think it took for your district to get used to using thoughtexchange?
It happened for us very quickly as the staff at TE were very professional and at the same time friendly and open to working with us as novices. - Dr. Steve Kennedy
How do you get leaders/board directors comfortable with making hard decisions? A hesitancy we have faced is discomfort opening up to more criticism, or questions that can not be answers.
We have found that through the process of doing an exchange, we have encountered much less criticism because everybody sees what everybody else is thinking and the best ideas rise to the top. The best part is the notion that every voice is heard and it is not just the leader moving forward on thier own. It becomes an inclucive decision as the choice of direction becomes quite clear. - Dr. Steve Kennedy
Sounds interesting. How else are you using or do you plan to use this tool?
We use it for everything from parent and student surveys to establishing agendas for management as weel as Cabinet. Our schools use it with their school leadership teams, students and parents. - Dr. Steve Kennedy
Have you had negative feedback about boundary decision?
NONE. - Dr. Steve Kennedy
Grouping of similar thoughts? How do you group very similar thoughts to ensure it is accurately represented?
The analytics are what the program is based on and it has been spot on for us. The latest version includes outstanding analytics directly in the program. Everything from demographic and grade level data to trends and outliers are easily identified in the latest TE. - Dr. Steve Kennedy
How do you ensure that you are hitting a wide variety of people and not those that are digitally connected or have overt interest? Not everyone is techy.
Very informative. Thoughtexchange is a great tool for many people to share ideas about important topics
Advice for justifying Thoughtexchange to your Board?
Gets your organization to actions that is supported across the board because all stakeholders participate so they have buy in. - Dr. Steve Kennedy
How do you share your results with the community?
What is a feasible length of time to run a Thoughtexchange on an important issue such as boundaries and/or school safety?
A few weeks has been our model. - Dr. Steve Kennedy
What is the retun on investment (ROI) for this tool and the decisions you make as a result?
It is an extremely valuable tool in todays social media influenced, fake news laden environment. If integrity and trust are important for any prganization, TE gets us there quickly and painlessly. It is worth its weight. - Dr. Steve Kennedy
How do you justify the budgetary expenditure for a platform like Thoughtexchange?
How long does it take to run a Thoughtexchange? How quickly do you get results?
Star Fatigue? How many thoughts should be starred to get valid feedback? Do you experience any starring fatigue where a very similar thought seems to get fewer star?
We have not experienced that as of yet. - Dr. Steve Kennedy
Copyright © 2018 Fulcrum Management Solutions Ltd.
Thoughtexchange® is a registered trademark in Canada and the United States of Fulcrum Management Solutions Ltd.
The Thoughtexchange logo is a trademark of Fulcrum Management Solutions Ltd in the United States and/or all other countries.