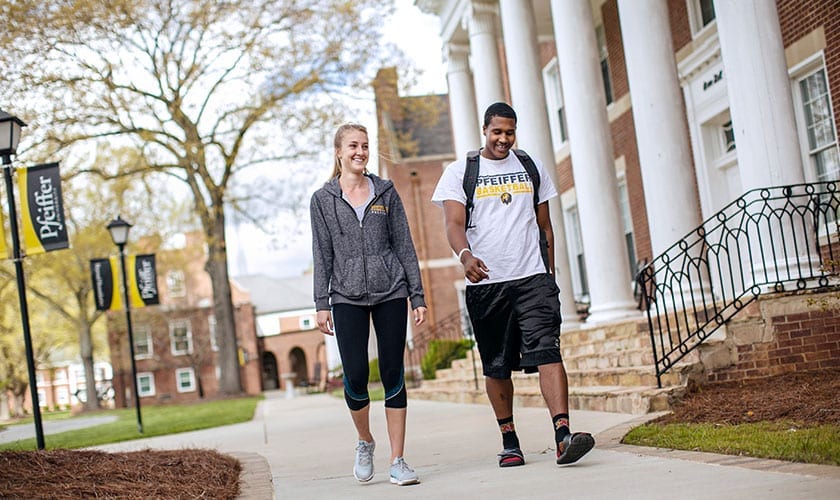 Driving retention from day one with a better first-year student orientation
---
Pfeiffer University is a private liberal arts institution in North Carolina with 1,500 students spread out over three campuses between Charlotte and Raleigh. Like many universities across the country, Pfeiffer is undergoing a digital transformation; leveraging technology to innovate everything from enrollment and student experience to professional capabilities for faculty and staff.
At the helm of Pfeiffer's innovation is Chief Information Officer and Vice President of Digital Transformation, Dr. Ken Russell. A Pfeiffer alumnus, Dr. Russell has led strategic and groundbreaking technology initiatives for organizations ranging from Fortune 500 companies to innovative startups in various industries.
Creating a relevant, energizing and effective first year orientation program to enhance student experience and increase retention is a challenge for postsecondary institutions everywhere. And it's one that Dr. Russell and his team are tackling with help from ThoughtExchange.
"Where I think Pfeiffer University has a great advantage is in how we connect with and communicate with our students," Dr. Russell explains. "So finding a way we can actually change and add value to orientation helps build value over time for things like retention and participation. Technology should be used to help quickly convey to our students the value of Pfeiffer University. I believe ThoughtExchange does a great job of that."
Learning what students and parents really want to know
Pfeiffer's Director of Orientation, Jill Rogers and her team launched an exchange a few months before orientation that let all students and parents confidentially share and rate thoughts at any time and from any device. The results revealed what was most important to attendees, where people agreed or disagreed and any special interest groups that existed.
"Learning what people want ahead of time is one of the biggest challenges because all we really had prior to ThoughtExchange was phone and email," Rogers explains."ThoughtExchange makes my job easier by helping build better content for our sessions. I'm not just flailing in the wind, thinking 'what do these students and parents really want to know?'. It really helps me see what things they're concerned about and the things they want to know most."
Rogers has also used ThoughtExchange live at several Student Development Sessions during orientations to get prioritized lists of questions, concerns, and ideas from students in real time.
"Before, they would just sit there and look at us when we asked if they had questions," Rogers shares. "But with ThoughtExchange, since it's anonymous, they can throw whatever they want out there, and we can see what's rated highest. That's really helped make the sessions more interactive."
Dr. Russell adds that ThoughtExchange data and analytics tools offer the comprehensive research perspective he needs to inform his leadership team's discussions and take action.
"ThoughtExchange allows us to create almost instantaneous exchanges that let us collect data not just in the moment, but over the course of days, weeks or months that we can reflect upon. ThoughtExchange gives me the best of both worlds. I get a mixed-method approach, with qualitative data about how people feel, and the numbers my CFO and others are looking for."
"Being able to initiate a ThoughtExchange on demand allows us to check the pulse of our student population and see what's working and what's not working, which allows us to move more quickly."Dr. Ken Russell, VP of Digital Transformation
Driving retention from day one and beyond
By integrating ThoughtExchange into the planning process and using live exchanges at their orientation events, Pfeiffer was able to create a better orientation experience for incoming students.
"We've had the chance to use ThoughtExchange for our orientation program several times now, and it's exciting to see how efficient it's become," Dr. Russell notes. "In just about real-time, we're getting the thoughts of people as they have them and those thoughts come straight to us. So, the value has been incredible."
After experiencing ThoughtExchange at work in the orientation process, Dr. Russell and his team plan to continue using it to make Pfeiffer more responsive to student needs and drive transformation in the long run.
"Being able to initiate a ThoughtExchange on demand allows us to check the pulse of our student population and see what's working and what's not working, which allows us to move more quickly," he says. "It also allows us to focus on our retention efforts. We can produce an experience our students want to be a part of both today and for the rest of their lives as alumni."
---
ThoughtExchange provides software solutions that bring people together, build trust and make progress on important topics. Whether it's employees, customers or whole communities, our solutions effortlessly connect you to your stakeholders. People can confidentially and independently share their thoughts, appreciate other points of view and understand how their perspectives are connected to decisions. Our patent-pending data analysis gives you the insights to make informed decisions and take action.
CHALLENGE
Learn what matters to parents and students before and during orientation to create a better experience that supports student retention
SOLUTIONS
An exchange before orientation that let leadership learn what mattered most to parents and students ahead of the event

Exchanges during orientation sessions to gather questions and ideas in real-time

Ongoing exchanges to track student experience and increase success
RESULTS
A better understanding of student and parent experience that informed more relevant content and helped create a more engaging event

A base of rich data to guide future decision making, and a way to continue being more responsive to student needs

Industry:
K12 Public Education
Location:
New York
Size:
5,200 Students
Use Case:
District Planning Communications